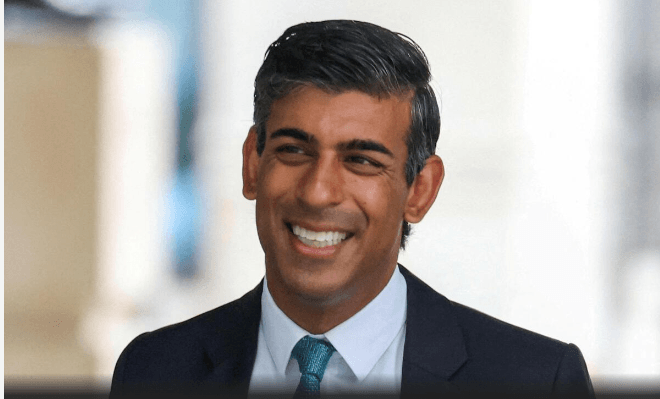 Sunak set to make history as first British-Asian Prime Minister
Rishi Sunak has won the race to be the leader of the Conservative Party and will become Britain's next Prime Minister — the third this year.
The former Treasury chief will be Britain's first leader of colour, and faces the task of stabilising the party and country at a time of economic and political turbulence. His only rival, Penny Mordaunt, conceded and withdrew on Monday. As leader of the governing party, he will take over as prime minister from Liz Truss, who quit last week after 45 tumultuous days in office.
About Rishi Sunak
Rishi Sunak born 12 May 1980.He is a British politician who has been Leader of the Conservative Party since 24 October 2022. He was Chancellor of the Exchequer from 2020 to 2022 and Chief Secretary to the Treasury from 2019 to 2020. He has been the Member of Parliament (MP) for Richmond (Yorks) since 2015.
Sunak was born in Southampton to parents of Punjabi Indian descent who migrated to Britain from East Africa in the 1960s
Education
He was educated at Winchester College, read philosophy, politics and economics (PPE) at Lincoln College, Oxford, and gained an MBA from Stanford University in California as a Fulbright Scholar.
Career Path
I grew up watching my parents serve our local community with dedication. My dad was an NHS family GP and my mum ran her own local chemist shop. I wanted to make that same positive difference to people as their Member of Parliament and I was first elected to represent this wonderful constituency in 2015 and re-elected in 2017 and 2019. I live in Kirby Sigston, just outside Northallerton.
I have been fortunate to enjoy a successful business career. I co-founded a large investment firm, working with companies from Silicon Valley to Bangalore. Then I used that experience to help small and entrepreneurial British companies grow successfully. From working in my mum's tiny chemist shop to my experience building large businesses, I have seen first-hand how politicians should support free enterprise and innovation to ensure our future prosperity.
My parents sacrificed a great deal so I could attend good schools. I was lucky to study at Winchester College, Oxford University and Stanford University. That experience changed my life and as a result I am passionate about ensuring everybody has access to a great education. I have been a school governor, a board member of a large youth club, and have always volunteered my time to education programmes that spread opportunity.
I have been lucky to live, study and work internationally. I met my wife, Akshata, in California where we lived for a number of years before returning home. We have two daughters, Krishna and Anoushka, who keep us busy and entertained.
In July 2019 I was appointed Chief Secretary to the Treasury, having entered Government service as the Minister for Local Government in January 2018. In February 2020, I had the honour to be appointed Chancellor of the Exchequer, a position I had the privilege to hold until July 2022.
In my spare time I enjoy keeping fit, cricket, football and movies
Political Career
Sunak was elected to the House of Commons for Richmond in North Yorkshire at the 2015 general election, succeeding William Hague. Sunak supported Brexit in the 2016 referendum on EU membership. He was appointed to Theresa May's second government as Parliamentary Under-Secretary of State for Local Government in the 2018 reshuffle. He voted three times in favour of May's Brexit withdrawal agreement. After May resigned, Sunak supported Boris Johnson's campaign to become Conservative leader. After Johnson was elected and appointed Prime Minister, he appointed Sunak as Chief Secretary to the Treasury. Sunak replaced Sajid Javid as Chancellor of the Exchequer after his resignation in the February 2020 cabinet reshuffle.
As Chancellor, Sunak was prominent in the government's financial response to the COVID-19 pandemic and its economic impact, including the Coronavirus Job Retention and Eat Out to Help Out schemes. He resigned as chancellor on 5 July 2022, citing his economic policy differences with Johnson in his resignation letter. Sunak's resignation, along with the resignation of Javid as Health Secretary, led to Johnson's resignation amid a government crisis.
In July 2022, he stood in the Conservative party leadership election to replace Johnson, and lost the members' vote to Liz Truss. Following Truss's resignation amid a government crisis, Sunak won the October 2022 Conservative Party leadership election
Here are 10 facts about Rishi Sunak's connection with India:
1- Rishi Sunak took oath as MP from Yorkshire, on the Bhagavad Gita in the Parliament. He was the first UK parliamentarian to do so.
2- Both his parents are of Indian descent. Sunak's parents, pharmacists, migrated from East Africa to the UK in the 1960s. Sunak's father, Yashvir Sunak, was a National Health Service general practitioner and mother, Usha Sunak, ran a chemist shop.
3- Rishi Sunak is married to Infosys chief Narayan Murthy's daughter Akshata Murthy. They have two daughters – Krishna and Anoushka.
4- As Chancellor of the Exchequer under Boris Johnson's leadership, Rishi Sunak lit Diwali diyas at his residence on Downing Street.
5- Rishi Sunak often speaks of his heritage and how his family reminded him often about values and culture.
6- Like most Indian households, education was a key aspect of parenting in the Sunak household. Rishi Sunak is a Stanford University graduate and a former investment banker.
7- Rishi Sunak visits Bangalore with his wife and two children often to meet his in-laws.
8- During the campaigning for the PM's post in the summer of 2022, Rishi Sunak faced criticism on various fronts including his lavish house, expensive suits, and shoes. Rishi shared a statement that the Bhagavad Gita often rescues him during stressful situations and reminds him to be dutiful.
9- Rishi Sunak has a net worth of over 700 million pounds and is very vested in properties in the UK. Apart from owning a mansion in Yorkshire, Rishi and his wife Akshata own a property in Kensington in central London.
10- To keep fit, Rishi Sunak likes to play cricket.
01 JANUARY 2023
India abstains from voting on UN resolution on Israel
India has abstained from voting in the UN General Assembly on a resolution that asked the International Court of Justice (ICJ) for its opinion on
the legal consequences of Israel's "prolonged occupation" and annexation of the Palestinian territory. The draft resolution "Israeli practices affecting the human rights of the Palestinian people in the Occupied Palestinian Territory, including East Jerusalem" was adopted on Friday, with 87 votes in favour, 26 against and 53 abstentions, including by India.
The resolution decided to request the ICJ to "render an advisory opinion"on "what are the legal consequences arising from the ongoing violation by Israel of the right of the Palestinian people to self­determination, from its prolonged occupation, settlement and annexation of the Palestinian territory that was occupied since 1967, including measures aimed at altering the demographic composition, character and status of the Holy City of Jerusalem, and from its adoption of related discriminatory legislation and measures."It also asked the Assembly "how do the policies and practices of Israel… affect the legal statusof the occupation, andwhat are the legal consequences that arise for allStates and the United Nations from this status?" The U.S. and Israel voted against the resolution while Brazil, Japan, Myanmar and France wereamong those that abstained. Before the vote, Israel's Ambassador to the United Nations Gilad Erdan said the "outrageous resolution" calling for the advisory opinion of the International Court of Justice is a"moral stain on the UN and every country that supports it. No international body can decide that the Jewish people are "occupiers" in their own homeland. Any decision from a judicial body which receives its mandate from the morally bankrupt and politicised UN is completely illegitimate." Following the vote, World Jewish Congress President Ronald S. Lauder said in a statement that the vote at the United Nations exemplifies an ongoing pattern of bias against
Israel.